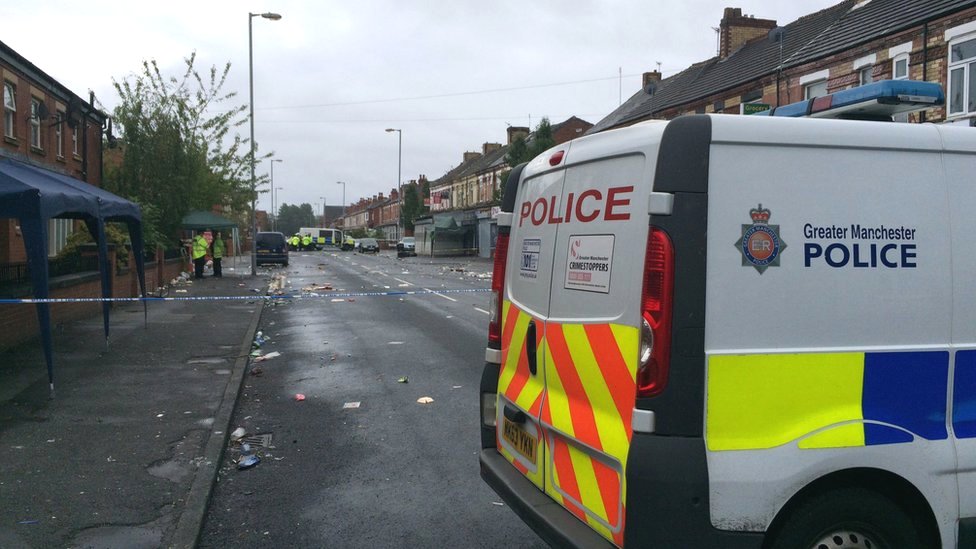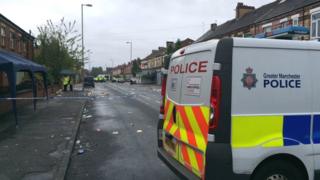 Ten people are in hospital after shots were fired in the Moss Side area of Manchester.
Greater Manchester Police said victims suffered "minor to major injuries".
Armed police were called to the shooting in Claremont Road, at the junction of Cowesby Street, at about 02:30 BST.
Several people were in the area following the Caribbean Carnival, which had finished some hours before, the force said.
On Sunday morning litter was strewn across Claremont Road, including empty drink bottles, food wrappers and nitrous oxide canisters.
Residents said a street party was held annually on the road after the carnival in nearby Alexandra Park.
Moss Side anti-violence campaigner Dr Erinma Bell told the BBC she understood the shooting had been carried out by one man, who had been firing pellets.
Police have not confirmed how many people were involved or what sort of gun was used.
Det Sup Debbie Dooley said: "We currently have a number of people in hospital all being treated for different injuries, but thankfully most do not appear to be life-threatening at this time.
"Officers are trying to establish exactly where this incident took place and who is responsible for such a dangerous attack."
Extra officers will be patrolling the area over the coming days to reassure the public, she added.
At the scene: Anna Jameson, BBC Radio Manchester
The Caribbean Carnival was meant to be a celebratory event, especially given the 70th anniversary of the arrival of the Windrush generation.
Moss Side has done much work in the last few years to reinvent its image – in the past it had become quite notorious for violent crime.
The events overnight will be seen as absolutely shocking for the local community.
Officers will understand that and they will know there will be a lot of people who will be scared in their own homes – that is why they are putting on extra patrols over the coming days.
It is not yet clear whether the carnival, which was due to continue today, will take place on Sunday.
https://www.bbc.co.uk/news/uk-45160462