Atlanta United have confirmed the signing of exciting Argentine defender Alan Franco as their latest designated player.
The 24-year-old arrives on a five-year contract from Argentine Primera Division side Independiente.
Franco has played his entire professional career in his native Argentina and was once viewed as one of the most promising defensive talents to come out of the country. He joined Independiente from Atletico San Telmo as an 18-year-old, and made his international debut under Lionel Scaloni aged just 21.
Related Articles
Alan Pardew admits regret over iconic FA Cup final dance
Former Crystal Palace manager Alan Pardew regrets his famous FA Cup final dance from 2016, when Manchester United ran out 2-1 winners.
Tom Gott|Apr 6, 2021
Charlie Savage signs first professional contract with Manchester United
Charlie Savage, the son of former Wales international Robbie, has signed his first professional contract at Manchester United
Tom Gott|Apr 8, 2021 Manchester United set asking price for in-form Jesse Lingard
Manchester United will demand a fee of £30m to sell Jesse Lingard, for whom West Ham are prepared to do whatever it takes to sign.
Tom Gott|Apr 8, 2021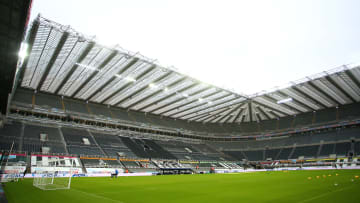 Newcastle United Supporters Trust unveil plans to buy stake in club
The Newcastle United Supporters Trust has set up the 1892 Pledge to encourage fans to donate towards a 1% stake in the club.
Tom Gott|Apr 8, 2021
He has made 125 appearances for Independiente to date, and was an integral part of the side that won the Copa Sudamericana in 2017.
Now, he has moved north to MLS, joining ambitious side Atlanta on a long-term contract.
A club statement on Thursday read: "Atlanta United today announced it has signed centre-back Alan Franco as a Designated Player via transfer from Club Atletico Independiente of the Argentine Primera División.
"Franco will sign a five-year contract and occupy an international roster spot pending the receipt of his International Transfer Certificate (ITC) and P-1 Visa."
Technical director Carlos Bocanegra said: "Alan is a competitive and aggressive center back who is comfortable with the ball at his feet.
"He has established himself with more than 80 matches in Argentina's top flight, in addition to experience in Copa Sudamericana and Copa Libertadores. We're looking forward to further integrating him with the group and getting him match ready.''
Atlanta have secured the signing in time for the start of the 2021 MLS campaign, which kicks off with a visit to Orlando in next weekend's Eastern Conference opener. They will be hoping he can help improve on an underwhelming 2020 season that saw them finish 12th in their regional section, above only DC United and FC Cincinnati.