Barcelona are optimistic about their chances of seeing midfielder Philippe Coutinho back in action before the end of the season.
The Brazilian recently underwent a second surgery on the knee injury which has kept him out since late 2020 and it was initially feared that his season, including the 2021 Copa America, could be over.
Related Articles Ronald Koeman hopeful Ousmane Dembele will stay at Barcelona
Ronald Koeman wants Ousmane Dembele to reject interest from Manchester United, Juventus, Liverpool & PSG and sign a new Barcelona contract.
Tom Gott|10:00 AM GMT+1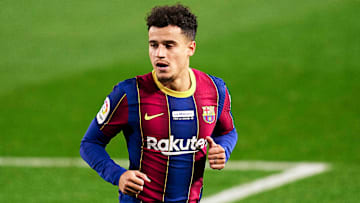 Philippe Coutinho travels to Brazil for knee treatment as recovery stalls
Barcelona confirm Philippe Coutinho will travel to Brazil for further treatment on a knee injury & could be out for the season.
Tom Gott|Mar 30, 2021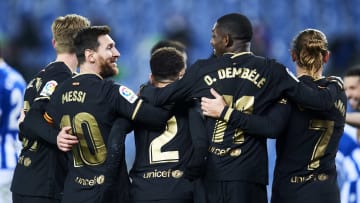 The Barcelona lineup that should start against Real Valladolid
90min picks the Barcelona team that should be starting against Real Valladolid in La Liga on Monday.
Matt O'Connor-Simpson|Apr 4, 2021
The Barcelona lineup that should start against Real Valladolid
The Barcelona lineup that should start against Real Valladolid in La Liga on Monday night
Max Parsons|Apr 3, 2021
However, while club officials are reluctant to put any sort of time frame on Coutinho's recovery, AS state that the general consensus is that the 28-year-old could be back in five or six weeks if everything goes according to plan.
Barcelona have ten games left to play in all competitions this season, with their final match coming against Eibar on May 23, and it has not been ruled out that Coutinho could make it back in time to play some part in that fixture.
Manager Ronald Koeman would have to make a late decision over whether he feels the Brazilian is up to speed at that point, particularly given there is still so much to play for in La Liga.
Monday's 1-0 win over Real Valladolid moved Barcelona one point behind league leaders Atletico Madrid, and with such fine margins, Koeman may decide it is not in the team's best interest to bring back Coutinho if he is less than 100%.
In the meantime, Coutinho will remain in Brazil with national team doctor Rodrigo Lasmar and his team of physios, which has been taken as a sign of the midfielder's loss of confidence in Barcelona's medical staff.
It's worth mentioning that Coutinho isn't the first Barcelona player to turn to outside help for an injury this season. Teenage winger Ansu Fati is encouraging help from anywhere and everywhere after two club-recommended surgeries on his knee failed to repair his problem. Of the pair, it's Fati whose season looks to be in most trouble. A third surgery would definitely rule him out, while there's no guarantee any natural therapy will have the desired results either.
The same goes for Coutinho, although there is at least some confidence that his second operation has been a success. It seems to be a matter of time, although with the season slowly winding down, Coutinho may not have enough to get back.
For more from ​Tom Gott, follow him on ​Twitter!