The second weekend of April has thrown up one of the Premier League's most intriguing match-ups in the dugout, as Marcelo Bielsa's Leeds United host Pep Guardiola's Manchester City.
The quirky Bielsa has masterminded Leeds' long-awaited return to the top flight, playing an exhausting style of football and making headlines off the pitch with his various eccentricities.
The former Argentina manager is a great influencer – and friend – of Guardiola's. The City boss has enjoyed a career of sustained, remarkable success since he swapped the pitch for the dugout in 2007, moulding teams that have sent footballing records tumbling across Europe.
But Guardiola may not be the manager he is today were it not for the influence of Bielsa, making for a potentially enthralling 90 minutes on Saturday afternoon at the Etihad Stadium.
The History
It was October 2006 and Pep Guardiola was taking his first tentative steps into management. On the advice of ex-teammate Gabriel Batistuta, he journeyed to visit Batistuta's former international boss Marcelo Bielsa on his ranch in Argentina.
It was the pair's first ever meeting. They frantically talked, debated and dissected football, tactics, philosophy and everything in between deep into the early hours of the morning.
They first met in the dugout in November 2011, as Bielsa's Athletic Club were denied all three points against Guardiola's imperious Barcelona side thanks to a last minute Lionel Messi equaliser. It concluded a frenetic 2-2 thriller with mistakes, flashes of brilliance and a red card – just about everything you could want from a game of football. One of their most famous encounters was in the 2012 Copa del Rey final. In preparation, Bielsa meticulously studied all 63 of Barcelona's games from the 2011/12 season, monitoring every goal scored and conceded and breaking down every moment and every transition that led to them.
Bilbao lost 3-0.
"You know my side better than me," Guardiola remarked at full time when presented with Bielsa's extensive analysis.
"It was useless," Bielsa replied.
Their first Premier League meeting was in October, when the spoils were shared in a 1-1 draw between Leeds and Man City at Elland Road.
The Men Bielsa enjoyed a modest playing career in comparison to Guardiola, playing domestic football in his native Argentina – most notably for Newell's Old Boys – in the 70s, before calling time on his playing days in 1980 at the age of just 25 in order to pursue a coaching career.
The Leeds boss has taken the scenic route to the Premier League. He spent 10 years in the Old Boys youth system before accepting the top job at his former side. He and his upturned bucket then took various positions at clubs across Argentina and Mexico, before the Argentina job came calling in 1998.
He earned cult status for the job he did with the Chile national team between 2007 and 2011, completely refreshing the footballing set up, improving the youth system and guiding the country to World Cup qualification after an eight-year absence.
His attention to detail and eccentricities have always caught the eye; from the infamous 'Spy Gate' during the 2018/19 season, to the fact he went to live with nuns in a monastery in 2004. Although his trophy cabinet is relatively bare, he is considered one of the game's great scholars, minds and characters.
In contrast, Guardiola's glittering playing career has been matched by his feats as a manager. A deep-lying midfielder in his day, he won six La Liga titles as part of Johan Cruyff's illustrious Barcelona side of the 1990s, before concluding his playing career with brief spells in Italy, Qatar and Mexico.
Guardiola then created an illustrious Barcelona side of his own after taking the Camp Nou hot seat in 2008. He won two Champions Leagues and three La Liga titles as Barcelona tiki-taka-ed their way into the football history books.
His attention to detail is comparable to that of Bielsa's, while his furiously high standards are evident to anyone who has watched Manchester City's Amazon Prime documentary. Like Bielsa, he takes a personable, passionate and motivational approach – but has consistently had much better players at his disposal.
And when it comes to being a serial, pedantic over-thinker, the pair certainly rival one another for that accolade.
The Style
The similarities in playing style between the pair are often overhyped. Leeds have a slightly more chaotic style, with a greater emphasis placed on their high-energy pressing philosophy and shrewdly timed overloads.
In contrast, City dominate possession in the final third. They pass teams to death until players are eventually moved out of position, allowing Guardiola's side to pounce.
Although the style of play in execution differs, in philosophy there are similarities; the high defensive line that is almost asking to be exploited, the marauding full-backs and the complex positional interchange.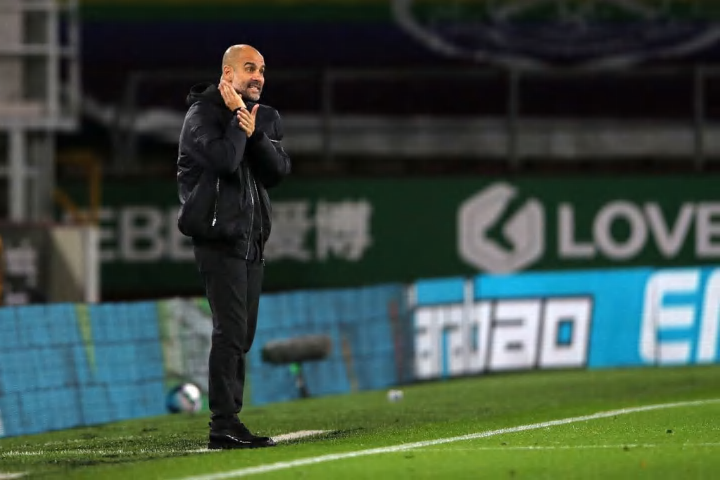 Oh, and the work rate..
Bielsa and Guardiola both demand football that is intense and relentless. Games are seized, it is 100 miles an hour, an exhausting attacking effort. You could easily play a couple of seasons under Bielsa or Guardiola and then happily retire at 25 with the same energy-sapped sensation of someone hanging up their boots at the end of a 20-year career.