Kylian Mbappe has been rated as having a '50/50' chance of signing a new contract with Paris Saint-Germain and staying at the club beyond this season.
Mbappe is out of contract at PSG in the summer of 2022, which makes PSG vulnerable to losing him on a free transfer if talks over a new deal are not progressing and they do not sell him this year.
The 2018 World Cup winner has been quite open about the fact that he is weighing up his options ahead of next season and would only sign a new contract with PSG if he sees his long-term future with them.
While insisting he has always been happy in Paris, Mbappe said in January: "I will need to make a decision soon but I am thinking about it. I don't want to sign a contract and say a year later that I want to leave. If I sign it is to stay and that deserves time to reflect on my decision."
Almost three months on, the Daily Telegraph reports that Mbappe is continuing to resist signing a new PSG contract. Unlike Neymar, talks over a new deal haven't progressed, his likelihood of staying is only rated at 50/50 and there is said to be 'genuine concern' that he wants to leave.
There is known to be long-term mutual admiration between Mbappe and Real Madrid, but Spanish outlet Cuatro takes it further and claims that the player has already decided that he will not be renewing his contract at PSG and wants to join Los Blancos.
Related Articles Bayern Munich 2-3 Paris Saint Germain: Player ratings as Kylian Mbappe inspires Les Parisiens to thrilling win
Player ratings as PSG beat Bayern Munich 3-2 in the first leg of their Champions League quarter final tie
Max Parsons|Apr 7, 2021
PSG director offers update on Kylian Mbappe & Neymar contracts
PSG director Leonardo admits he is happy with contract negotiations with Kylian Mbappe & Neymar and expects things to be finalised soon.
Tom Gott|Apr 8, 2021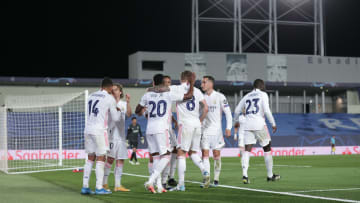 Real Madrid 3-1 Liverpool: Player ratings as Los Blancos punish sloppy Reds
Report and ratings as Real Madrid punish a sloppy Liverpool in the Champions League quarter final
Mitch Wilks|Apr 6, 2021 Eden Hazard to miss El Clasico through injury
Eden Hazard will miss Real Madrid's clash with Barcelona despite being expected to be fit for the clash, with Zinedine Zidane not naming him in his 19-man squad
Ross Jackson|Apr 9, 2021 If there remains no progress on the contract talks in Paris over the coming weeks, PSG will have little option but to start listening to offers for Mbappe, who has scored over 30 goals in all competitions for the third season in a row and 122 in total since leaving Monaco in 2017.
In France, reporter Mohamed Bouhafsi has claimed that the Spanish media's stories on the Mbappe saga are carried away, insisting that Mbappe has so far not informed PSG of any desire to join Real.
If it reaches the stages where negotiations between Real and PSG do begin, it stands to be one of the most expensive transfers in history. 90min has previously reported that PSG would ideally like a world record fee in excess of the €222m they paid for Neymar. However, they could be persuaded into accepting a lower offer of around €175m, which would still be the third biggest of all time.
Crucially for Real, not all of the money would need to be paid up front and any payment structure could be staggered over several years, while Eden Hazard is a player they would be willing to include in the negotiations and one that PSG also admire.
Despite concerns, 90min has already revealed that Real have the finances for Mbappe in place because club president Florentino Perez has been working on it for the past two years.
For more from Jamie Spencer, follow him on Twitter and Facebook!